Enrichment Opportunities at Homecoming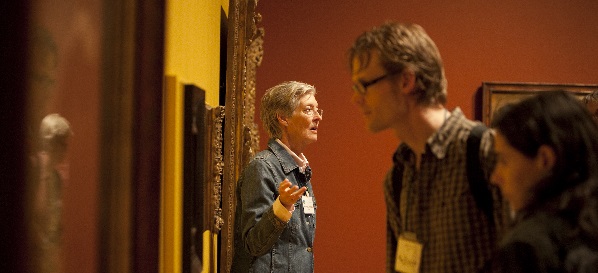 Homecoming is an opportunity for socializing, but did you also know that there are many event opportunities to experience a bit of Queen's academic excellence?

The following events are part of a very full slate of opportunities:
The Agnes Etherington Art Centre
's permanent collection is one of the most notable in Canada. Canadian historical and contemporary art (including new media) are particularly well represented amongst its 15,000 objects. The Centre is offering
free admission for alumni
during both Homecoming weekends, as well as
activities welcoming the entire community, including
Guided Tours
at 10:15 am on each Saturday and Sunday and
'Ask-a-Docent'
hours in the gallery from 11 am to 3 pm each Saturday and Sunday.
The Department of English
is hosting
"Battle of the Books"
: Debating the 2013 Giller Prize Nominees. Reconnect with Literature! Join Queen's English faculty members for a lively discussion of this year's nominees for the Scotiabank Giller Prize. Check out their
Facebook page
for all of the latest information and interesting trivia!
Open houses will be held by the following departments and schools, and many more will be confirmed soon!
Chemical Engineering
Civil Engineering
Electrical and Computer Engineering
Engineering Physics
Integrated Learning
Mechanical and Materials Engineering
The Robert M. Buchan Department of Mining
Engineering Chemistry
Engineering Mathematics and Statistics
Geological Sciences and Geological Engineering
The School of Nursing
The Queen's University International Centre (QUIC) will be hosting an Open House on the Friday afternoon of each Homecoming weekend. If you remember the International Centre, or had an international experience during your time at Queen's, or are simply curious about the Centre's past and current activities, you won't want to miss this!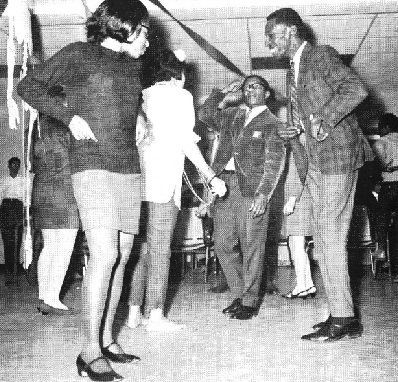 CFRC
is the world's longest-running campus radio station! CFRC aims to provide innovative and alternative radio programming that enriches and challenges the academic and cultural life of the University and Kingston community. On the Saturday of each Homecoming weekend, CFRC will be hosting an
Open House
at which you can have a tour and even get behind the mic. The station will also be playing 'memory music' on the airwaves (101.9fm &
http://cfrc.ca
) from 8 am to 1 pm each Saturday and
broadcasting the Queen's Gaels football games live from Richardson Stadium
, called by student & alumni broadcasters.
Student Clubs Exhibit and Graduate Studies Showcase
will take place on the Saturday morning of each Homecoming weekend in Grant Hall. Everyone is welcome! Enjoy seeing and experiencing what Queen's clubs and groups are working on and hear about the exciting research being done in Graduate Studies, including an update on the winners of the '3 Minute Thesis' competition!
The School of Music Showcase
will take place on the evening
of Friday, October 18th at Grant Hall. This evening of music will feature performances by the Choral Ensemble directed by Dr. Mark Sirett (BMus'77), the Jazz Ensemble directed by Greg Runions (BMus'77), the Symphony Orchestra directed by Gordon Craig (BMus'73), and the Wind Ensemble directed by Dan Tremblay. All are welcome and tickets will be available at the door! Student and Senior tickets are $5 and Adult tickets are $10.
And this is just a sampling of the many events that open the doors to Queen's.
We hope you'll be able to fit a few of these options into your weekend plans and take advantage of the outstanding enrichment offerings Queen's provides.
If you are interested in promoting an enrichment opportunity, whether you're with a Queen's group or a Kingston organization, contact us to have your event included in the Homecoming line-up.
---
Confirmed Groups Returning for Both Weekends
Which Classes are Coming "Home"?
This year, Queen's welcomes home the classes of 2008, 2003, 1998, 1993, 1988, 1983, 1978, 1973, 1968, 1963, and the classes of 1940 to 1962. After their 50th anniversary, alumni are welcomed to return to Queen's every year, instead of every five years.

Queen's faculties, departments, teams, and clubs also celebrate milestone anniversaries at Queen's Homecoming.

Confirmed groups returning for the October 4 - 6 weekend include:
Arts and Science Classes of '68, '78, '88, Biology '88 and '08;
Commerce Classes of '68, '78, '88, '98 and '08;
Applied ScienceClasses of '48, '68, '78, '88, '98 and '08;
LawClasses of '68, '78, '88, '93, '98 and '08;
MBA Classes of '78 and '88;
Medicine Classes of '68, '78 and '88;
Nursing Classes of '78, '88 and '08;
Phys Ed Classes of '68, '78 and '88;
Rehab Therapy Classes of '78, '88 (OT) and '88 (PT);
Football '78 - 35th Vanier Cup Reunion.
Confirmed groups returning for the October 18 - 20 weekend include:
AIESEC '68;
Arts & Science Classes of '53, '58, '63, '73, Biology '78, '83, Geology '83, '93 and '03;
Commerce Classes of '48, '53, '58, '63, '73, '83, '93 and '03;
Engineering & Applied Science Classes of '43, '53, '58, '63, '73, '83, '93 and '03;
Law Classes of '63, '73, '83 and '03;
MBA Classes of '63, '73 and '83;
MBAST Class of '03;
Medicine Classes of '50, '53, '58, '63, '73, '83 and '93;
Music Class of '73;
Nursing Classes of '73 and '93;
Phys Ed Classes of '53, '58, '63, '73, '83 and '93;
Queen's International Affairs Association;
Rehab Therapy Class of '83.
Other reunions currently in the planning stages include Athletic group reunions, the 125th anniversary of the Department of English, and the 40th anniversary of the School of Music.
---
Registration is Climbing!
Over 750 alumni from 89 classes and groups have already registered for their Homecoming activities to ensure they will receive their reunion pin and latest planning update – have you registered yet?

Registering ensures you'll be the first to receive the Program Booklet digitally before the weekends, and your classmates will know you are coming back . Also, when you register, the folks at Alumni Relations know to have your official reunion-year pin ready for you when you arrive in October.
Be sure to check your class web page often , as all updates to plans and information will be added as they're confirmed!

Many alumni are eager to see the official  list of Who's Coming  – these lists are updated daily as more and more Queen's alumni register for their Homecoming weekend. The Who's Coming lists can be found on the Homecoming webpages for the weekend of Oct 4-6 and for the weekend of Oct 18-20 respectively.

Also, many of the events do not require registration and are open to the public – students and Kingstonians are very welcome! Check the event listing on the Homecoming Website for full details.
If you have any difficulties or questions regarding registration, please email us at reunions@queensu.ca or call 613-533-6000 ext. 77467. We'd be glad to help!
---
Cheer on the Queen's Gaels!
When we think of Athletics events at Homecoming, our first thought is usually of the football team's home game, so the number and variety of other games and events that Athletics is hosting over both Homecoming weekends might come as a surprise!

Gaels Alumni are invited to enjoy (and participate in!) a variety of alumni games and events throughout both weekends, with events in:
Fencing
Soccer
Volleyball
Water Polo
Lacrosse
Swimming
Basketball
Check out what events are going on for each weekend atthe Homecoming website. Gaels Alumni are also welcomed to attend a special Alumni Brunch on Sunday October 20, in the Atrium of the Athletics & Recreation Centre (ARC).
In addition, Queen's Athletics is introducing an all-access weekend pass, called the  Gaels Homecoming Pass  , which can be purchased online. For just $10, holders of the Gaels Homecoming Pass can attend any ticketed games (except the Football game, tickets for which can also be purchased online) and even have weekend-long access to the state-of-the-art fitness facilities at the ARC.

The weekend of October 4-6 will feature the following ticketed games for the entire community to attend:
Women's and Men's Soccer
Women's and Men's Basketball
Women's Hockey
Field Hockey tournament
The weekend of October 18-20 will
feature the following ticketed games for the entire community to attend:
Women's and Men's Hockey
Women's and Men's Volleyball
Men's Lacrosse
Women's and Men's Soccer
Women's and Men's Rugby
Check the Homecoming website for full details on all the games.
The Gaels Homecoming Pass is available to everyone - to visitors from out of town as well as Kingston residents; to those whose history with Queen's Athletics goes back many decades as well as those who might be experiencing the thrill of university sport for the very first time!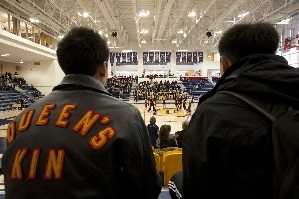 Q: What event from Homecomings-past is pictured here?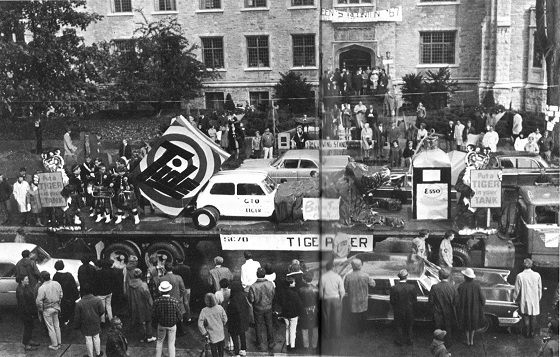 A: The annual Float Parade, for which each year in each faculty prepared an entry! A panel of VIP judges would observe the parade and choose a winner.
---
Draft Weekend Schedule
This is usually the part of the Homecoming e-newsletter where we lis

t the variety of exciting events being planned, but since our last edition the number of events has grown to over 100 for both weekends!
Please visit the Homecoming website for the full schedule of events.
---
What are people talking about?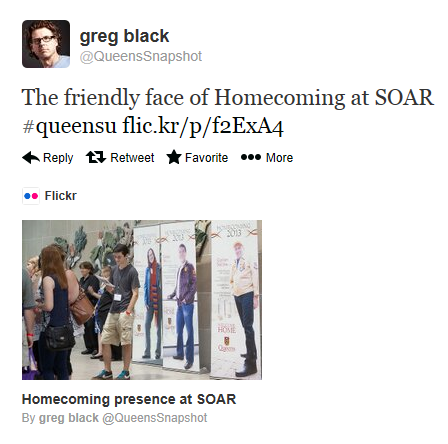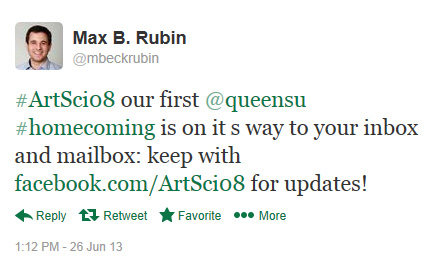 Social Media and Homecoming
Want to promote your Homecoming events and activities? Spread the word using Queen's alumni social media!
---
Did you know?
Queen's Archives is always accepting donations of Queen's memorabilia (everything from clothing to photographs) to add to their vibrant collection. This is a great opportunity to contribute to your alma mater's permanent records and keep Queen's history alive for years to come.
Queen's Archives will be present at Grant Hall for the Welcome Home! Alumni Meet & Greet event during both Homecoming weekends to say hello, show off some interesting and quirky memorabilia, as well as to accept any donations. They are also open all year round and can be reached at 613-533-2378 or archives@queensu.ca.
---
Sponsorship
If you are interested in advertising options or information on becoming a sponsor, please contact Peter Gillespie at peter.gillespie@queensu.ca .
---
Planning an Accessible Homecoming
Queen's Homecoming 2013 is committed to an inclusive campus community that respects the dignity and independence of persons with disabilities though a continued effort to offer accessible services and facilities.
As part of our commitment to an inclusive and accessible Homecoming, we have created volunteer roles dedicated to providing onsite direction/support to persons who self-identify as living with a disability at Homecoming.

Accessibility Champion volunteers will be present at the Welcome Home! Alumni Meet & Greet, so make sure to visit them if you have any accessibility-related questions or concerns.

We also encourage alumni and guests to self-identify any special needs  when they register  . Knowing accessibility needs in advance will help us to plan events and best accommodate all Homecoming participants.
---
Homecoming Countdown - Only 72 days to go!
---
Questions? Ideas
? We'd love to hear from you!
reunions@queensu.ca
1-800-267-7837