Mini-Course: Nonlocal Problems in PDEs and Geometry
---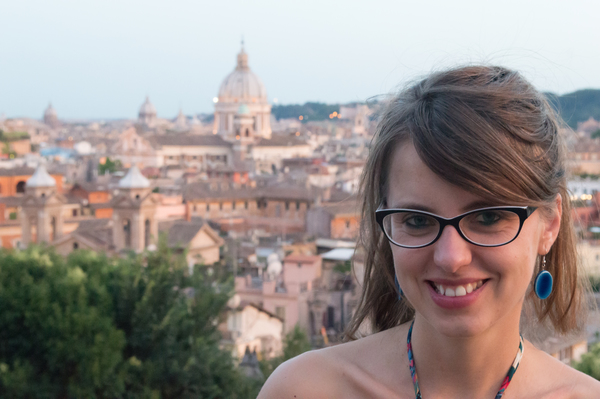 May 20-24, 2019
Prof. Eleonora Cinti (Università di Bologna, Italy) will teach a 5-day mini-course aimed at graduate students and junior researchers at the intersection of Analysis and Geometry. Here is the poster of the event.
Dr. Cinti earned her Ph.D in 2010 and since then has worked at the Max Planck Institute in Leipzig, the Weierstrass Institute in Berlin, and various Italian universities (Pavia, Bologna, Torino). Eleonora Cinti's research focuses on nonlocal partial differential equations, geometric measure theory, and calculus of variations.
Schedule
The mini-course will be structured as follows:
Lecture 1 (Monday, May 20): Preliminaries: basic facts about the Laplacian and harmonic functions.
Lecture 2 (Tuesday, May 21): The fractional Laplacians: motivations and properties.
Problem Session (Wednesday, May 22).
Lecture 3 (Thursday, May 23): $s$-Harmonic functions and the Caffarelli-Silvestre extension theorem.
Lecture 4 (Friday, May 24): Geometry meets PDEs, a nonlocal phase transition model and nonlocal minimal surfaces.
All lectures will be in Jeffery Hall. Monday May 20th is a holiday (Victoria Day) and lunch will be provided. 
 

Monday - May 20th

Tuesday - May 21st
Wednesday - May 22nd
Thursday - May 23rd
Friday - May 24th 
10:30-11:00

coffee

(5th floor lounge)

coffee

(5th floor lounge)

coffee

(5th floor lounge)

coffee

(5th floor lounge)

coffee

(5th floor lounge)

11:00-12:00

lecture 1A

(Room 126)

lecture 2A

(Room 126)

(Room 110)

lecture 3A

(Room 128)

lecture 4A

(Room 128)

12:00-13:30

lunch

(5th floor lounge)

 
 
 
 
13:30-14:30

lecture 1B

(Room 126)

lecture 2B

(Room 101)

seminar "Nonlocal operators

everywhere" (Room 101)

lecture 3B

(Room 128)

lecture 4B

(Room 101)

 
 
 
 
 
 
Preliminaries and Bibliography
Preliminary results that will be used in the mini-course can be found here:
Preliminaries
. 
The bibliography for the mini-course can be found here: 
Bibliography
.
Problem Session
Here are the exercises for the problem session on Wednesday morning: Problems
Wednesday Seminar
On Wednesday afternoon, Ikemefuna Agbanusi (Colgate University / Colorado College) will give a seminar related to the topics of the mini-course. The seminar will be at 1:30 pm in Room 101.
Title: Non-Local Operators Everywhere
Abstract: My goal in this talk is to give another approach---along with examples, characterizations and refinements of local and non-local operators. Very loosely speaking, non-local operators are necessary if one wishes to "albegraically complete" the local ones and my goal in this talk is to explain why and show also that pretty much all the "interesting" operators are non-local.
Registered participants
Daniel Adu (Queen's)
Ikemefuna Agbanusi (Colgate University / Colorado College)
Mohammad Akbari Varnousfaderani (Queen's)
Iris Arenas (Queen's)
Thomas Barthelmé (Queen's)
Becca Bonham-Carter (Queen's)
Himesh Bhatia (Queen's)
Robert Burklund (M.I.T.)
Juan Diego Cardenas Cartagena (Queen's)
Fernando Camacho Cadena (Queen's)
Francesco Cellarosi (Queen's)
Chengjie Diao (Queen's)
Kasun Fernando (University of Toronto)
Nicolas Garica (Queen's)
Bahman Gharesifard (Queen's)
Meysam Ghomi (Queen's)
Ali Kara (Queen's)
Henry Kavle (Queen's)
Xinyi Ke (Queen's)
Andrew Lewis (Queen's)
Na Li (Queen's)
Siqi Li (Queen's)
Ankai Liu (Queen's)
Molly Liu (Queen's)
Giusy Mazzone (Queen's)
Neil MacVicar (Queen's)
Adama Ndoye (Technische Universität of Chemnitz) 
Daniel Offin (Queen's)
Tariq Osman (Queen's)
Yuyang Peng (Queen's)
Alessandro Portaluri (Università di Torino)
Sonja Ruzic (Queen's)
Sina Sanjari (Queen's)
Somya Singh (Queen's)
Matthew Spragge (Queen's)
Pei-Lun Tseng (Queen's)
Jian-Jia Weng (Queen's)
James Xie (Queen's)
Mohammad Yaali Jahromi (Queen's)
Serdar Yüksel (Queen's)
Bora Yongacoglu (Queen's)

Registration
If you want to attend the mini-course, please email nonlocal19@queensu.ca.
Sponsors
The event is sponsored by the Principal's Development Fund for Visiting Scholars and by the Department of Mathematics and Statistics.