Michael Cabral
Camp Director
I studied math and philosophy as an undergraduate at Queen's and then returned for a master's in mathematical biology after traveling and teaching abroad. Alongside my current PhD research (I build game theoretic models to explore how population structure affects the evolution of social behaviors such as cooperation), I help to coordinate MATH 121, which is the large first-year calculus course here at Queen's.
I have been involved with Math Quest since 2014. Over the years, I have designed a wide variety of camp sessions with topics across many branches of mathematics. During these sessions, campers might be asked to find the Fibonacci sequence in a pineapple, program a robot that can draw a perfect star shape, measure the height of a clock tower using only rudimentary objects, or construct a complete graph on 25 vertices with colored ribbon. I've also created a number of popular Escape Rooms that test campers' problem solving skills in a race against the clock. Who knows what is in store this summer!
 Becca Carter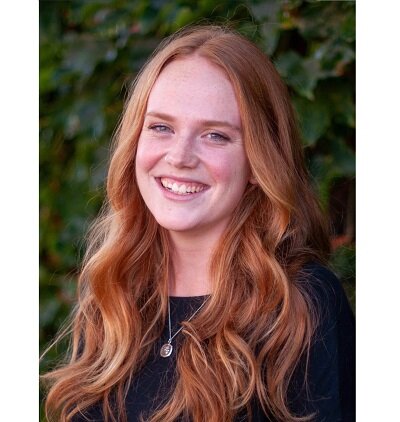 Instructor
Julie Jenkins
Instructor
Julie has a 2021 Master's degree in Mathematics from McMaster University. Her thesis examined ways of measuring conceptual understanding in a differential geometry course. After years of tutoring and attending MathEd forum meetings at the Fields Institute, she fell in love with Math-Ed, and thrives on helping students see beautiful things in mathematics. Current projects include spearheading a math mentorship outreach program for high school girls, and creating a workshop on authentic mathematical experiences. This photo was taken in a 2019 trip to Botswana, flying over the Okavango Delta.
Sonja Ruzic
Instructor
Hi, my name is Sonja and I am a PhD student here at Queen's. Broadly, I study mathematical structures by looking at how they interact with other objects.  This area of math is called representation theory.  I completed my bachelor's degree at the University of Western Ontario in actuarial science and math, and my master's degree at Queen's in math.  I spent some years working in industry but wanted to return to school and learn some more math.  Some other things that bring me joy are playing violin, running, and reading fiction.  Looking forward to the camp!
Janny Liu
Instructor
I completed my undergraduate degree at Queen's with a major in mathematics and minor in chemistry. I am now pursuing a Bachelor of Education degree at Queen's with mathematics and chemistry as my teaching subjects at intermediate and senior high school level. I am always interested in exploring further about flexible and creative curricular materials and activities. I like running, painting, and playing the flute in my spare time.
  Somya Singh
Instructor
My name is Somya Singh and I am a Ph. D. student in mathematics at Queen's University. I enjoy teaching math and interacting with undergraduate students about math problems.
 Alex Wasser
Instructor
Hi, my name is Alex Wasser (she/her). I completed my undergrad at Queen's in Math (2021) and decided to stay on as a graduate student in the department with an interest in mathematical biology. I love summer camps and attended a sleepover summer camp in Northern Ontario for 16 years as both a camper and a staff member. A fun fact about me: I used to be a competitive snowboarder. I have hung up the snowboard boots for sandals this summer and am excited to be a part of the leadership team!
Peter Taylor
Instructor
Peter is a Mathematics Prof at Queen's University, cross-appointed to Biology and Education. For most of his career he worked building evolutionary models of social behaviour, but his creative efforts are now focused on building a new kind of mathematics curriculum. He is a 3M Fellow, and a Fellow of both the Fields Institute and the Canadian Mathematical Society. He has taught two semesters in high school and done considerable curriculum writing with the Ontario Ministry.
   David Griffin
Instructor
I'm David, I'm a fourth-year Biology & Mathematics student at Queen's. This year, I'll be starting my thesis on the use of environmental DNA as a means of in-field algal bloom detection. I enjoy learning from the unique perspectives of students, and hope to help cultivate an interest in mathematics. Outside of class, I spend my time playing sports, tending to my plants, and listening to music.
    Alice Hu
Instructor
Hi, my name is Alice, I completed BHSc in Statistics at Queen's University and am currently pursuing a MSC in Biostatistics. I'm interested in applying statistical methodologies to address public health problems. In my free time, I enjoy playing tennis, watching movies, and playing with my cat!
Math Quest is sponsored by the Canadian Mathematical Society and the Queen's University Department of Mathematics and Statistics.
Math Quest is sponsored by the TRH Foundation
Math Quest is thrilled to be partnering with the Agnes Etherington Art Centre. We will be running camp programming from Agnes's bright and airy André Biéler Studio this summer.